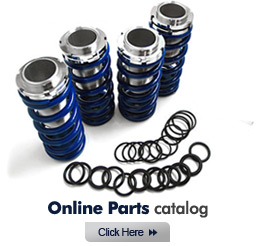 When new parts or accessories need to be installed on your Ford or Lincoln vehicle, be sure that they are genuine Ford and Lincoln parts and accessories; they are specifically made to fit your vehicle perfectly and come with a longer guarantee, so you can drive safely and without worry. Want to save on repairs? Ask our technicians if they have refurbished genuine parts in stock.
Montmorency Ford is the largest dealer of genuine parts and accessories in Brossard, on the South Shore and in the Montreal area. Our six-person road-delivery team guarantees you fast delivery service on the aforementioned territory, while our seven parts salesmen know all there is to know about Ford and Lincoln parts and are available until 3:30 a.m. from Monday to Thursday to help you. No other dealer can offer you as much!
Consult our catalog and order parts online via our website. For more information on our parts department, call us at 1 855 781-7815.
Original Equipment and Motorcraft replacement parts

We offer replacement parts designed by Ford, specifically tailored to our vehicles. Compared to generic after-market parts with no guarantee, which would you choose? There's no question about it. Only the highest quality parts, designed explicitly for your vehicle, can ensure your car runs at its best.
Whether it's a simple filter replacement or a full-on restoration, turn to Ford Original Equipment (OE) and Motorcraft® parts for unsurpassed quality and performance. Click on a part below and check out MyFord.ca for more information, including functionality, warning signs for when to replace a part, and more.